Check out this video highlighting our lab!
Check out this podcast hosted by President de la Torre highlighting cancer research at SDSU!
Dr. Sohl talks about her research, involvement of undergraduates in her lab, and her mentoring program, MINDSET!
Molecular mechanisms of disease: probing disease from atom to tissue

We strive to combat disease by asking mechanistic questions at the intersection of biochemistry, molecular biophysics, cell biology, metabolomics, and oncology.
Understanding the molecular mechanisms of disease illuminates structure-function relationships and identifies new pathways to therapeutically target.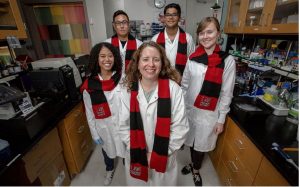 We are always seeking inquisitive, bright, enthusiastic, and hard-working #SohlMates to join our team!