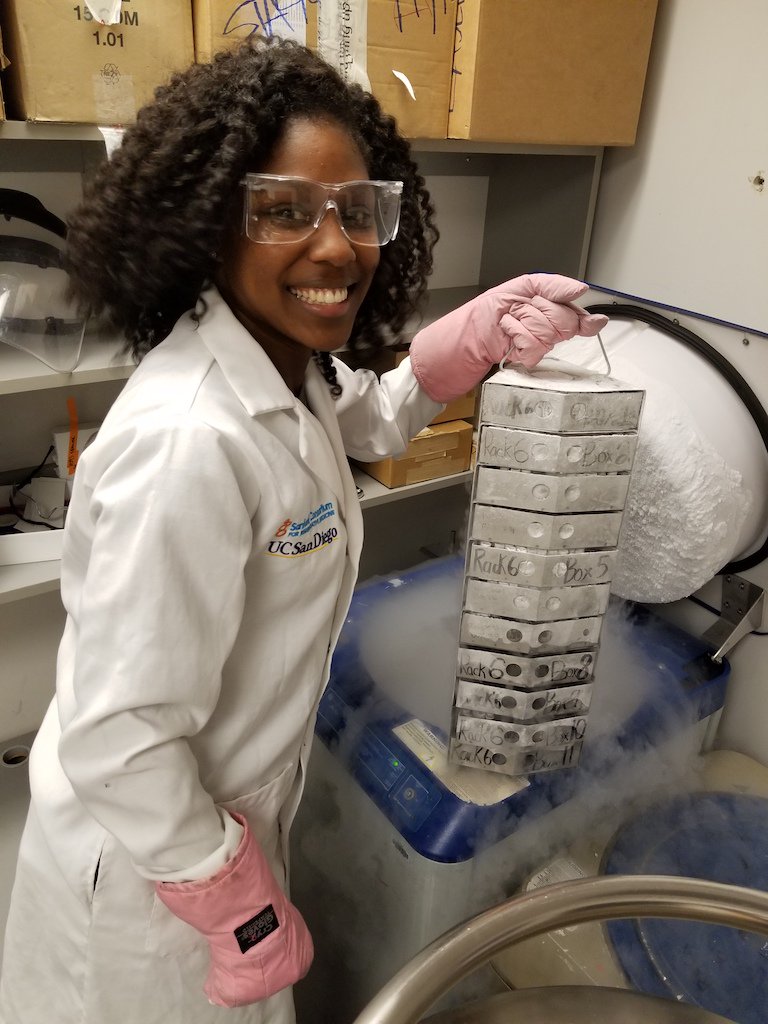 Dr. Joi LaGrace Weeks passed away Monday, September 14 from complications related to breast cancer. After her diagnosis this summer, one month after successfully defending her PhD, she faced cancer as she did all of life's challenges – with a sharp analytical mind, steadfast determination and persistence, grace and humor, and a preference to focus on the well-being and needs of others. She leaves behind a husband, Kirk Griffin, two children, Sun and Trinity, and a host of family, friends, and colleagues.
Joi obtained her BS degree in Chemistry from the University of North Carolina at Chapel Hill. She worked with Dr. David Threadgill studying disease-driving EGFR mutations in mouse models. After her graduation, Joi worked at Wyeth Biotech as a Quality Control Laboratory Technician on a pediatric vaccine. Joi realized a passion for academia and moved to San Diego to serve as a lab manager in Dr. Tannishtha Reya's lab at UCSD in Pharmacology and Medicine. She had three publications while there, focusing on regulators of stem cell fate and renewal primarily in the context of leukemia. This experience inspired Joi to obtain her PhD.
Joi first obtained her MS in Cell and Molecular Biology at SDSU in 2015 in the lab of Dr. Ricardo Zayas. During her training, she contributed to a publication on the role of E3 ubiquitin ligase genes in stem cell regulation and renewal in planarians. Joi was also awarded a Harold and June Grant Memorial Scholarship from SDSU and a Graduate School Scholarship from the Black Opal/Biocosmetic Research Labs. Joi then applied to SDSU's JDP program in Biology. She initially worked with Drs. Mark Sussman and Natalie Gude (SDSU) and Dr. Andy Kummel (UCSD) on the development of a nanoshell drug delivery system being tested as a cancer immunotherapy. She had three publications during her time in the Sussman and Kummel labs, was awarded a prestigious Ford Foundation Fellowship, and was selected as an ARCS scholar. 
In September 2018, Joi transferred to the lab of Dr. Christal Sohl in the Department of Chemistry and Biochemistry. Committed to not letting her change in labs (and, for that matter, fields!) delay her career goals, Joi worked tirelessly on understanding the role of metabolic enzymes in cancer. She helped launch a new area of focus in the lab, malate dehydrogenase 1 (MDH1) as a driver of non-small cell lung cancer, making some of the first cell models of this disease. In Joi's soon to be submitted first-author publication, Joi came to love enzymes, catalytically characterizing mechanisms of post-translational regulation of isocitrate dehydrogenase 1 (IDH1). Incredibly, due to her genuine scientific curiosity coupled with a challenging path, Joi could claim expertise in cancer immunology, cancer biology, genetics, developmental biology, chemistry, and biochemistry. She successfully defended her PhD in May 2020 amid a global pandemic, deadly examples of institutional racism at the national scale, and the loss of her own grandmother. Joi's thesis defense highlighted her impressive command of a myriad of topics and an appreciation of the big picture of her work, and was one of her proudest days. Our lab is very grateful she decided to become a #Sohlmate – we learned so much from Joi, and will always be inspired by her.
Joi's career goal was to become a professor, though she was already excelling at all the parts of the job description. Anyone that saw one of Joi's biology chalk talks was impressed with her ability to tell an engaging and clear story that highlighted her innate talent for teaching, depth of knowledge, high personal standards, and diligent preparation. In the lab, Joi's keen intellect was matched with a genuine passion for science, an incredible work ethic, a persistent drive for success, a truly extraordinary kind, empathetic, and resilient demeanor, and a quickness to smile and laugh. Joi was a kind yet firm mentor, challenging her trainees to meet their potential, to ask important scientific questions, and to be tidy! As a Black woman in science, she took seriously the role of serving as an inspiration for younger BIPOC scientists while overcoming her own experiences of implicit and explicit questioning of her own belonging in science.
Finally, though her scientific talents were extraordinary, Joi was a woman of many gifts and interests. She was a silver medal-holding junior Olympian who once faced the decision of whether to pursue an Olympic career in track and field, or to become a scientist (we were so glad she opted for the latter!) Joi was an avid gardener who could coax anything to grow, saying with a sheepish laugh that she found giving struggling plants words of regular encouragement was a critical component of her green thumb abilities. Joi was a creative DIY-er with a number of carpentry projects in the works, and a fondness for designing jewelry.